¨ gallery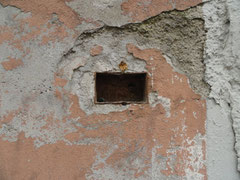 ¨gallery [umlaut gallery] is a gallery in a hole in the wall in munich, schleissheimerstraße.
the hole, of course, was already there and had often drawn our attention - for its specific beauty - as we walked by. until 2010 though its beauty was not recognized by many and the hole was often misused by people to get rid of their garbage.
however when my friend, photographer francesca tallone, visited me in the summer of 2010 we spontaneously decided to make the hole a gallery and to hold the opening of a first show - our show - on the street with whoever would want to join us.
we created tiny artwork, said hole is only 4,5 x 8 cm in size, installed it and were joined by eleven friends and one curious passer by to celebrate the birth of ¨gallery!
from then on ¨gallery has now hosted many shows with various artists, national and international, and instead of feeling limited we feel the possibilities for exhibiting in a space that is completely autonomous, that doesn't belong to anybody, are endless.
many artists have proposed to create work for ¨gallery in the future already and we are curious and excited for what's to come.
we would like to suggest to people to go and find their own spaces in their respective cities.
here's to wall galleries, to friendship, to collaborations, to curiousity!
¨ gallery  contact: umlautgallery[at]gmail.com